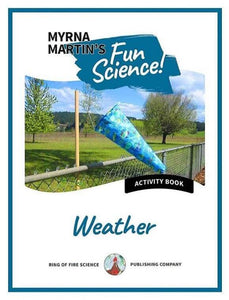 Ring of Fire Science
AB Weather Activity Ebook
Regular price
$9.95
$0.00
Unit price
per
-
Why this Weather activity book is for you!
You will like this activity book because it uses inexpensive materials for your children to learn about the weather. Most of the materials listed in each activity can be found around your home. The directions are clear and easy to understand.
Sample activities your children will like to do
Comparing how water evaporates in a sunny and shady location. 
Creating a windsock to see the direction the wind is blowing.
Creating a solar oven to cook marshmallows.
Weather Shapes Our Lives
Weather is constantly changing. What you do each day often depends on the type of weather outside. This book is loaded with fun activities related to the weather at can be completed indoors or outdoors.
Treasure Hunt
The activities use inexpensive materials usually found around your home or at a local store. You can have a Treasure Hunt with your children before starting this fun science book.
Your children will have fun looking for science materials around your home. You can store the materials in a cardboard box. Your children will get excited about the various science activities as they look for materials during their treasure hunt.
Each chapter in the Weather activity ebook includes . . .
A mini-lesson introduces each activity.
List of materials they will need for the activity
Directions on how to do the activity.
More Science Activity Ideas includes addtional science activities you children can do.
Science Behind the Activity is information for you.
This PDF ebook is available for instant download. You will be emailed a link to download your ebook as soon as your checkout is complete. You will be able to read this book in minutes.
---
Share this Product
---