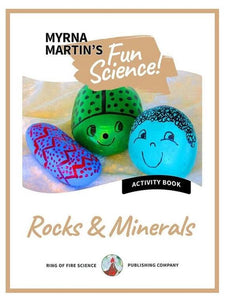 Ring of Fire Science
AB Rocks and Minerals Activity Ebook
Regular price
$9.95
$0.00
Unit price
per
-
Why the Rocks and Minerals activity ebook is for you!
You will like this activity book because it uses inexpensive materials for your children to learn about rocks and minerals. Most of the materials listed in each activity can be found around your home. The directions are clear and easy to understand.
Sample activities in this book
Collecting salt crystals on a stick.
Creating unique rock paperweights.
Testing for calcite using eggshells and vinegar.
Rock Cycle families of rocks

Igneous rocks are created during volcanic eruptions when molten rock cools above ground. Sedimentary rocks cover most of the Earth's surface. Metamorphic rocks are rocks that have changed because heat, pressure, and fluids cause the minerals in the rocks to recrystallize without the rocks melting. Minerals are the building blocks of rocks. All rocks are made of one or more minerals.
Treasure Hunt
Each chapter in this science activity book includes 
A mini-lesson that is an introduction to the activity. 
List of materials they will need for the activity.
Directions on how to do the activity.
More Science Activity Ideas includes additional science activities.
Science Behind the Activity is information for you.
This PDF ebook is available for instant download. You will be emailed a link to download your ebook as soon as your checkout is complete. You will be able to read this book in minutes.
---
Share this Product
---